Smart Discreet USB Charger Security camera,Spy camera USB Phone charger by WEMLB -1080p HD hidden camera, WIFI Wireless wall plug
Mr. PAXDAT is here to offer you one of the most advanced security cameras on the
market, that's compact into an ordinary USB charging block. A 2-in-1 solution that charges any USB device while still recording up to 4k HD videos.
No signs of telling this apart from a regular charging block. Now you can secretly record pictures and videos while charging your phone or other devices at the same time. No one will know!
✔️ Access live view and stream instantly from your smartphone
✔️ Record HD video & audio 
✔️ Motion detection alert notifications straight to your phone
✔️ Incredibly powerful yet extremely discreet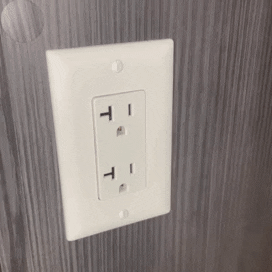 🔔GET ALERTED WITH MOTION DETECTION, LIVE STREAM REMOTELY. PLUG AND PLAY.
An undetectable solution that captures hours of recording that you can access live from any device or review later. Quick and easy set up via Wi-Fi, and live stream from anywhere at any time. The built-in smart motion sensor technology sends instant alerts through the app or email whenever it detects any suspicious activities. 
👀HAVE YOU EVER SEEN ANYTHING LIKE THIS BEFORE? WE KNOW THEY HAVEN'T. 
Suspect your significant other is cheating on you?
Suspect someone is stealing from you?
Want to keep an eye on the kids/pets while you're away?
And endless more possibilities...
Get the answers you've been dying to figure out for your peace of mind. Simply download the app, plug, and play.
😰NO ONE SHOULD HAVE TO GO THROUGH THE FEELING OF BEING UNEASY.
Know your loved ones or belongings are safe through this mini invisible camera, concealed in a regular charging block.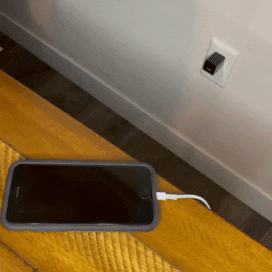 🔹 PLUG AND PLAY. Extremely easy to set up.
🔹 COMPACT DESIGN. Smart. Durable. 
🔹 UNDETECTABLE. Portable and invisible even upon close inspection.
🔹 MONITOR your belongings, kids, nannies, pets anywhere.
Use this security camera as a baby monitor, pet cam, or to relieve the burden of feeling uneasy while you're away anywhere - at work, on vacation, or even on a business trip.

👍REAL-TIME VIEW: Instant live streaming and playback loop recordings at any time.
🌐SMART WI-FI READY: IP camera connects online to Wi-Fi as well as offline with SD card.
📱FULL CONTROL: Monitor from any iOS/Android device through the app available on the Apple and Playstore.
📹MOTION & LOOP RECORDING: Accurate video motion sensor technology that alerts any movement and suspicious activity!
✅ Portable and Discreet - Looks Like Regular Charging Block
✅ Full HD 4K Video Recording
✅ Real-Time Live Stream On Any Device
✅ Adjustable Motion Detection + Unlimited Continuous Loop Recording
✅ Live Phone/Email Notification Alerts
✅ Night Vision w/ Infrared Technology
✅ 100% Wireless
✅ No Battery Required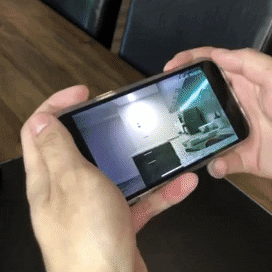 SPECIFICATION(S):
Video Format: AVI
Video Encoding: M-JPEG
Video Resolution: 1920X1080p
Video Frame Rate: 30fps
Image Ratio: 16:09
Battery Type: Built-in Polymer Lithium Battery
Battery Capacity: 80mAh
Charging Voltage: DC-5V
Storage Support: up to 32G TF card
Support System: for Windows me/2000/XP/2003/Vista; for Mac Os. Linux
Product Size: 55*30*30mm
 PACKAGE INCLUDE(S):
1*CM600iX USB Mini Camera
1* FREE USB 2.0 Card Reader
1*User Manual
1*Card pin