Funny Muggle Face Statue Planter Homestyles 8.5 in. Little Buddy The Muggly Face Statue Planter Holds 4 in. Pot
🤩Not your typical family next door, everyone has a uniquely designed humorous feature and provides a perfect way to display your plants and flowers. Can be used as flower pots and plant pots. After the plants mature, the Muggle statues look more interesting! 🤩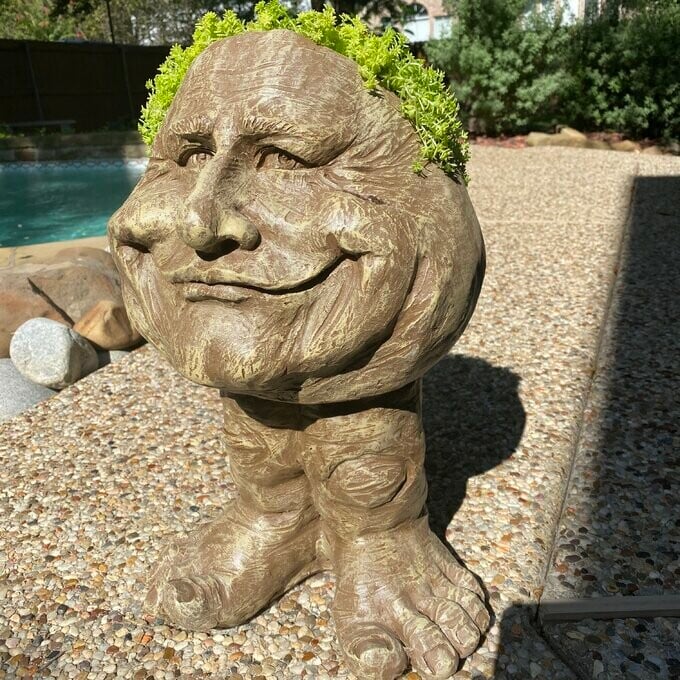 🤩Features:
Laugh, cleft chin and iconic feet, toes and wrinkled knees. Combines unique, humorous statues and functional implanters.

The ground can be placed flat on any surface.
Apply a beautiful topcoat by hand (the shade may vary), and then treat it with a weather-resistant UV protector.
Sturdy cold-cast designer resin, with years of fun and stable positioning.
It is recommended that all outdoor decorations and fabrics continue to be treated with sun protection and UV protection to maintain and protect the original appearance from fading, cracking and peeling.
👉SPECIFICATION:
Material: Resin

Dimensions: 18.2 inches high x 13.75 inches wide x 10.75 inches deep

Drain hole: No