2021 Ice Therapy Hair Straightener Cold Brush Eliminate Flyways & Frizz
Features:
Cold wind hair straightening brush: This electric hair straightening brush is specially designed for daily combing. It uses a new ice treatment method to straighten and smooth the hair so that you can have healthy, shiny, and straight hair.

Protect the hair: Different from the traditional heated hair straightening comb, this comb adopts low-temperature cryotherapy, which can straighten the hair with cold wind to avoid the damage of high temperature to the hair and the loss of hair moisture.
Dual purpose: Whether dry hair or wet hair, it is suitable for wet and dry hair. You can use this cold straightening brush to straighten or comb your hair, which is more efficient and convenient to use.
Hairdressing tools: This allows you to create charming and exquisite straight hair styling at home, making your hair soft and beautiful, full of luster, and you don't have to worry about being burned by high temperature due to operating errors.
Wide range of uses: An innovative straight hair comb, suitable for home and professional salon use, and can also be used as an ideal gift for family and friends, especially friends who like hairdressing.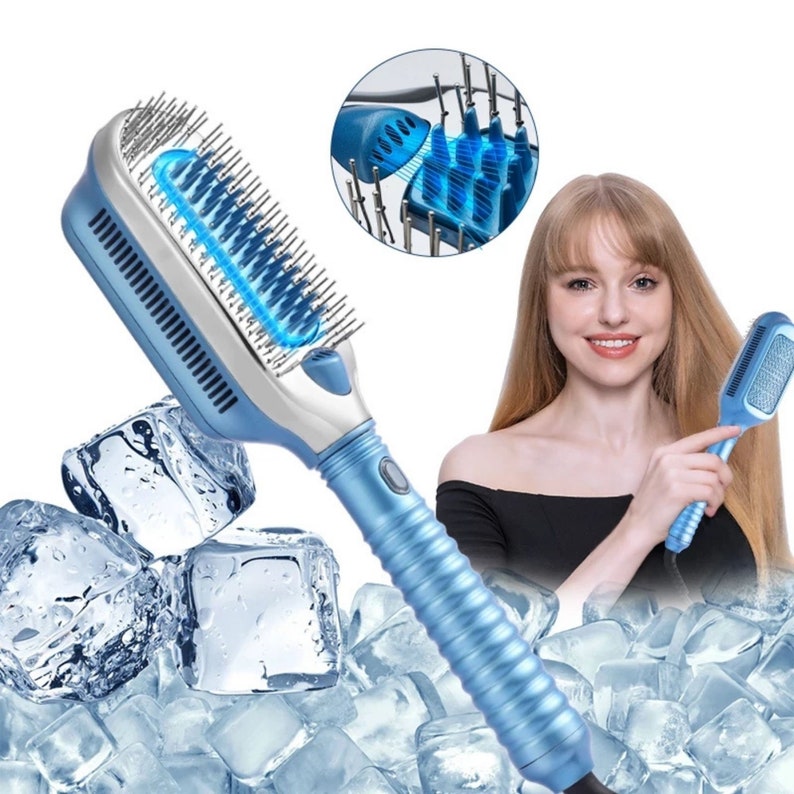 Specification:
Power: 55 W
Working current: 9V-5A
Current: 9V-6A (maximum)
Size: 14.4 x 4.1 x 3.3 in
Heat conductor material: tourmaline ceramic
Usage: Long press to turn off, short press to turn on
Temperature adjustment: This comb has 10 steps of temperature adjustment, it can be adjusted according to your needs, and its handle is also very comfortable to hold.
Package Includes: