Universal Splash Filter Faucet,720° Rotate Faucet Aerator Sink, Big Angle Large Flow Aerator
Splash filter faucet introduces air into the water stream to produce a larger and whiter stream that is SOFT TO TOUCH and NON-SPLASHING. This product is guaranteed to keep your customers or employees happy. Suitable for restaurant, laundry & back yard.
720 °rotation switch:
the spatter filter faucet can rotate the outlet by 720 °, making it more convenient to wash your face and gargle! Oxygen-rich foam, anti-splashing, four-layer mesh filter (to remove impurities) and double gaskets to prevent dripping.
There are two ways to save water:
rotating switch, soft foam and anti-splash mode, anti-splashing when washing hands, high-pressure shower mode, items are quickly cleaned.
Industrial quality:
sturdy copper, ABS main body, with higher durability and life.
The product also includes a reinforced double O-ring valve to ensure that all leaks are prevented.
Safe and user-friendly design:
the spatter filter faucet introduces air into the water flow, resulting in larger and whiter water, softer touch and non-spatter, suitable for restaurants, laundries and backyards.
Easy to install:
you don't need any tools, just make sure your faucet is the right size and ready for use, then put the shower head in the faucet and tighten the bracket clockwise to complete the installation.
Multiple Sizes & Types:
We offer a variety of styles to match your varied needs. Besides different spout reach for the faucets, we also offer different designs for faucet body and handle. Check out our product page! You will find the one that suits your needs the best.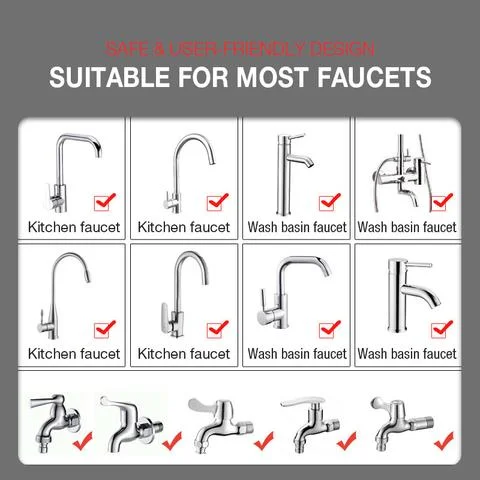 Feature
720° two-way faucet filter that can be rotated at will.
Two modes of water can be obtained by rotating,
making it more convenient to wash your face,
rinse your mouth and wash the basin...
Oxygen-enriched foaming,Can save water
Crystal diamond electroplating for a long time and bright new
Selected aluminum alloy large balls, double heads can rotate, angle is large and smooth
Four-net filter, can filter impurities such as hard particles in water
SPECIFICATIONS
MATERIALS
PRODUCT WEIGHT

Weight with Packaging: 108G

PRODUCT SIZE
(L X W X H)

Product Size : 15 × 8 × 5cm / 5.9 × 3.1 × 2inches

PACKAGE CONTENTS

Universal Basin Lengthen Extender × 1/