Automatic Fishing Rod Holder
A better solution to catch fish without losing it!

Fishing is a pretty relaxing pastime. You can just spend the day enjoying nature, waiting for the fish to bite. But I guess it can be frustrating if you never catch anything. In that case, it might be time to up your fishing game with this spring fishing rod holder. This unique fishing tool automatically pulls back when a fish bites. Is that cheating? Maybe. It's all good though. Sometimes you just need an edge.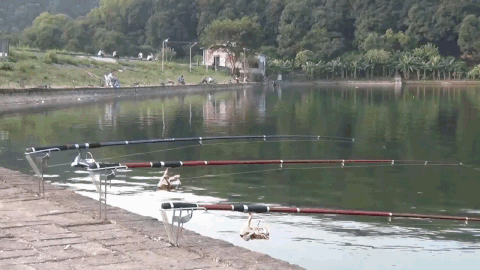 Perfect for shore fishers with many rods out at the same time, or just lazy boat fishing lovers, the spring-loaded rod holder will actually pull back whenever a fish is detected on the line. Using an innovative way of stringing the line through a hook on the device, it becomes a super sensitive way of detecting when a fish is on the line and will immediately pull back on the rod to set the line.
Automatic Fishing Rod Holder has three different levels of sensitivity, so if one setting is too sensitive or not sensitive enough for the fish you're trying to catch just adjust the setting on the device.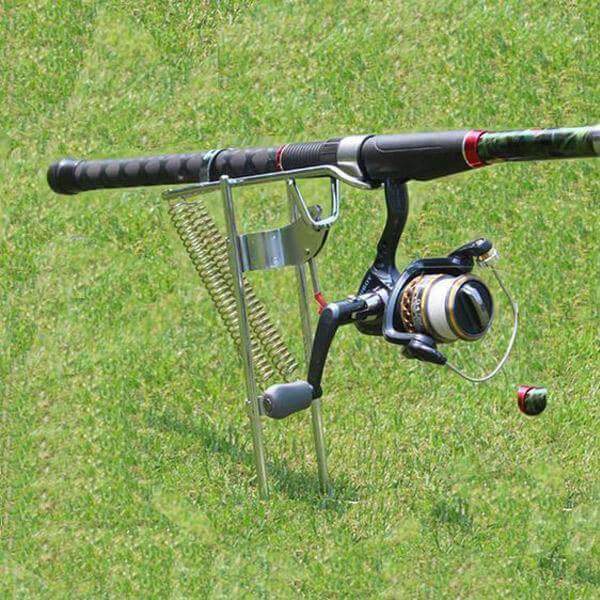 Normally when a fish bites, you have to be quick about pulling back on the rod, so you can hook that fish and bring it in. That moment can be the difference between a grand trout dinner or going hungry. This device does it for you, so if you have slow reflexes or maybe you have ten rods in the water at the same time, this thing will set the line for you. After that, all you have to do is just reel it in, and hopefully, it will be a keeper.

This fisherman's friend is a light-weight stainless steel fishing rod holder that's easy to assemble and it can be detached and folded up when you're not using it. The spring rod holder is also corrosion and impact resistant so no worries about it getting wet or it sitting outside for a long time.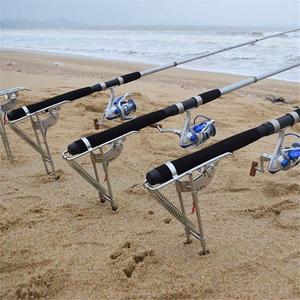 FEATURES:

Adjustable to 3 levels of sensitivity for various water conditions and size of fish. From super-sensitive for clear water to least sensitive for choppy water. As well as large, medium and small fish size. Line trigger activates tip-up only when fish hits the hook - no misfires.
Fishing rod holder with double spring loaded tip-up action sets your hook automatically. Now you don't need any bells or alarms. This tool does the job for you.
Prism construction makes for a sturdy rod holder and allows the fork to easily plug into the soil. Springs are ultra-strong and able to withstand a maximum tension up to 110 pounds! Two sharp ends go into the ground to hold the unit still. Sturdy Stainless Steel and impact are resistant. Anti-rust & Anti-corrosion. Plated steel material for excellent durability and strength.
HOW TO USE:
SPECIFICATIONS:

Material: Thickened stainless steel.

Size: Height: 48.7cm (Folded: H * W - 37 * 21cm)

Weight: 495g.
PACKAGE INCLUDES:
1 x Automatic Fishing Rod Holder
CAUTION:
Avoid putting hands and fingers where triangle forms (when the rod is set and spring is loaded) to avoid injury.

Our guarantee: We truly believe we make some of the most innovative products in the world, and we want to make sure we back that up with a risk-free ironclad 60-day guarantee. We provide a tracking number with every order and our shopping cart is SSL secured.