Eco-friendly Food Containers Set Food Storage Container Set, Kitchen & Pantry Organization
Do You Want To Tidy Up The Kitchen And Keep Groceries Tidy? 
Then the Food Containers Set is ideal! The food containers are designed for common dry foods such as pasta, muesli, and flour. Thanks to the transparent lid,  you can see at a glance what's in your pantry! Ideal, right?

No matter what you store in the food storage jar, you can always see it, from the side as from above. Above all, the contents of the cans remain airtight. Because the excellent design of this food container combines high product benefits with beautiful design.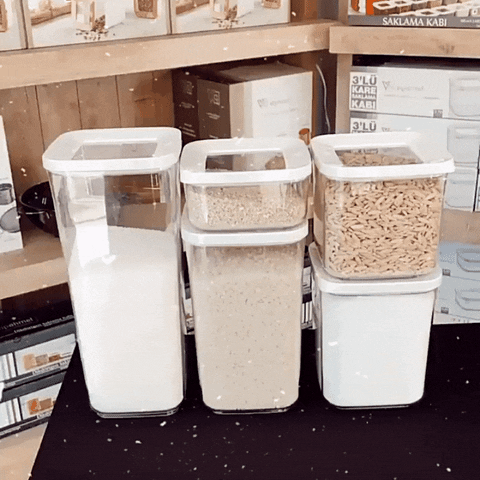 PRODUCT FEATURES:
✅ Through the transparent lid, you can see from above what is in the can and, above all, how much is left. Keeping the food fresh has never been easier.
✅ Made of clear non-brittle plastic, which is firm and sturdy, all edges are smooth and are seamless, so you can use this box to store things for a long time. 
✅ This durable food container is dishwasher-safe and suitable for storing all common dry foods. Of course, the cans are 100% BPA-free. Designed with perfect portion sizes in mind the range is ideal for kids and adults alike when taking meals on the move.
✅ The storage jars are easy to store as they are stackable. The storage jars can also be cleaned in the dishwasher. Individual containers with hinged lids to keep items separate and organized, keep small items separated, and easy to identify.
SPECIFICATIONS:
Material: Plastic

Feature: Eco-friendly,Healthy

Capacity: 460ml,700ml,1300ml,1800ml

Size: 10.5x6.5cm,10.5x9.5cm,10.5x19cm,10.5x23.5cm

Net Weight: 177g,214g,360g,408g

Color: Transparent