Portable USB Electric No Noise Non-Toxic Repellent Mosquito Killer Lamp,360 Degree Mosquito Air Duct System
Ultra Safe Guarantee – It is no radiation, no noise, non-toxic and chemical-free. Safe children, pregnant women, elderly people, pets.
Anywhere and Anytime – Powered by USB. It is very portable and perfect for indoor and outdoor.
Mosquitoes are transmitted through ultraviolet LED lights and killed by electric shock. Mosquito trap with light waves, no radiation, quiet and effective, quiet and comfortable. It is harmless to the human body and can be used to illuminate and destroy mosquitoes. USB power interface, Suitable for families, indoors, outdoor, kitchens, etc.
Easy to Clean – The removable plastic tray at the bottom of the unit collects dead insect, simply remove the tray for cleaning and disposal of bugs. Make maintenance fast and simple.
Light Source that Imitates Human Body: 365 nm bionic violet wave, Mosquito Killer Lamp use the human bionic technology to increase the attraction of mosquitoes for 60m². Accurately attract mosquitoes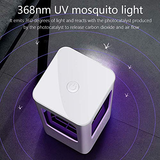 One-button operation, convenient and fast. – 360 degree mosquito suction air duct system. – Low silent decibel, silent design ,it makes no noise to disturb your sleep.